Real Flame & Bio Ethanol
Fire Pits
Our fire pits are multi-purpose and can be used with both a real fire or bio-ethanol flame
Whether you've like the fire set in one of our raised wooden surrounds for s'mores and marshmallow, or low level for an outdoor firepit areas, we have an fire pit rental option for you.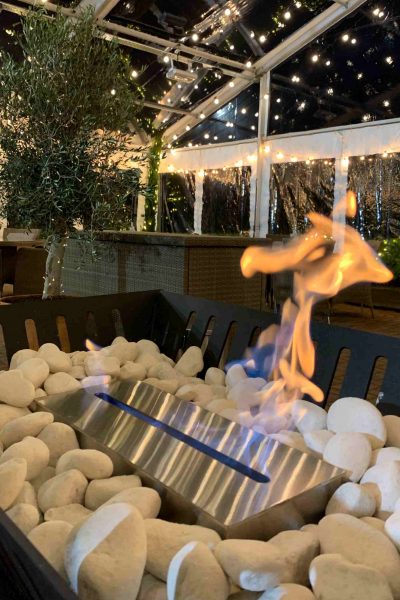 Standard
Real or Bio-ethanol
(90cm x 60cm)
Extra Large
Real Flame Only (100cm round)
Bio-ethanol real flame fires
Our bio-ethanol fire pits are a focal point in any outdoor event structure. Running on bioethanol fuel they emit no smell, no smoke and require no logs or fuel to be added.

We've designed our bio-ethanol fire plates to stand out, yet take up minimal floorspace. The whitewashed wood grain sides look great in any setting and with any colour theme.
Bioethanol Fireplace Specs
120cm wide, 60cm deep, 120cm high

Upto 12 hours on a single tank
We fully assemble on site,. Delivery via 4x4 vehicle.
What is bio-ethanol?

A flamable, colourless liquid which produces a orange flame once it's been burning for 5-10 minutes.
Efficient on fuel use, our burners will last for 10-12 hours on one tank of fuel, meaning no need to top up through-out your event.

They're also environmentally friendly and don't utilise fossil fuels. Bio-ethanol is a by-product of sugarcane and grains.

Emmitting no smoke & no harmful particles, just water and CO2, they're the perfect way to have an indoor fire.
What are the benefits of renting our fires?
Other equipment available for hire:
Are you hosting an event?
We deliver outdoor event equipment straight to your door... or field!