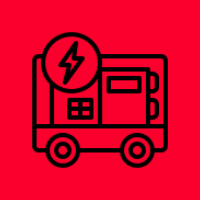 Of course, we don't expect all our clients to know generator jargon, but simple 'quoting for a generator' is quite difficult to do.
So, here is a list of things we'd like to know if your event includes – that way we can tailor the quote specifically to your event:
Caterers
Please confirm if it's a plated three course meal or street food vendors, as it'll make a huge difference to your power.

Ovens
Fridges – portable or fridge trailers
Hot cupboards
Urns
Kitchen lighting
Marquee or tipi
Band
PA system for speeches or background music
Toilet trailer
Photobooths
Coffee point in the marquee
Amplified acoustic singer
Bar power – for fridges or lighting
Once you're booked in with Grizzly Bear Events, we will be in touch closer to your event to request a little more detail, such as the number and locations of plug sockets for each supplier.
Get in touch with us today for your own bespoke generator quote.
Top Tips for once you've booked with us:
Send us a venue sketch
A venue sketch of where you would like all of the power sockets to be located. It can be very rough and hand-drawn. If you don't know what you need, ask your suppliers before the wedding season starts. This is because, they have more office time and will come back with a more accurate answer.
Noisy street food generators
Street food vendors usually say they have their own generator. But watch out, often they're noisy and made for the building trade. You should ask if they can connect to the ultra silent generators' power supply to keep noise down.
Tell us if you need more power than planned
Just adding additional plug sockets or extension leads can trip the whole power supply. You don't want this happening in the middle of dinner when the band is plugging in.
Get all suppliers set up as early as possible
Many want to come along and set up a day or two before (caterers, generator supplier, marquee, toilets), others will come in the morning, then leave for a few hours before returning at their correct time.
Consider hiring on the day event coordination
If you have lots of suppliers arriving on the day they'll be looking for someone to meet and ask questions to. This is why Grizzly Bear Events offers discrete on-the-day event coordination to take this hassle away from your friends and family, we meet a few months before and go through your schedule to make sure everything has been covered.