There are plenty of reasons why you might be considering chiller trailer hire. They're a great place to keep everything cool. This includes everything from alcoholic and soft drinks, prepared food, flowers, or even food that's waiting to be prepared! In this post, we'll be talking about everything you need to know about hiring a chiller trailer, to help you make the right decision.
Why do you need chiller trailer hire?
Firstly, let's think about why you might need to hire a chiller trailer. To put it simply, there are plenty of things that need to be kept cool, whether it's just to extend their longevity, like flowers, or to keep them safe to consume, such as meats. If you're putting on an event such as a wedding, corporate event, or party, the items that need chilling can quickly add up, leaving you without much room. For example, we often encounter events being hosted at home that need chiller trailer hire because there's just not enough room in the fridge!
And, even if your event is being hosted at a venue, they are sometimes not equipped with the facilities they need to keep everything at the right temperature. They're also ideal for outdoor events to keep everything handy but stored correctly. This is where hiring a chiller trailer is a real lifesaver! But, it's not just for events. We also offer chiller trailer hire for butchers, other food providers, professional kitchens needing an emergency solution, the list goes on. Whatever you may need a convenient chiller trailer for, we are here!
The benefits of chiller trailer hire
We've already touched upon some of the benefits of hiring a chiller trailer. Here are some more reasons why you might want to consider it as a solution:
They're really convenient
Possibly the best thing about chiller trailers is that they are really portable. So, they can be simply towed from one location to the next! All you need is a power source. Then you've got a convenient place to store all of your food, drink, and more, even if you're moving around. 
Power
Our fleet can run off a standard 13 amp plug socket, so they're easy to use at a variety of locations. However, with our chiller trailers, your power source doesn't have to be from the mains! They also run from portable generators, giving you even more freedom as to your trailer's location. They'll happily be located in a concrete car park or a muddy field. So, you can rely on them whatever the occasion or, indeed, the weather!
You've got no commitment
We know that most people who are looking into chiller trailer hire probably don't need it long-term. In fact, for most events, you'll probably only need it for a day or two. This is why hiring a chiller trailer can be so much better than buying one! Hire is surprisingly affordable, so you don't need to worry about high costs or the trouble of re-selling it. Instead, you can use it for as long or as short a time as you need. Even if you do need it for a longer period of time, hiring instead of buying can still be a great option. This is because you won't need to worry about maintenance or service costs.
Chiller trailer hire is an easy solution
Not only are chiller trailers convenient, they're also really easy to use. There's absolutely nothing complicated. All you need to do is plug it in, ensure the temperature is set, and your chiller trailer hire is ready for use! And, with hiring a chiller trailer, you don't need to worry about the logistics. We can both drop off and pick up your chiller trailer, so you can focus on your event.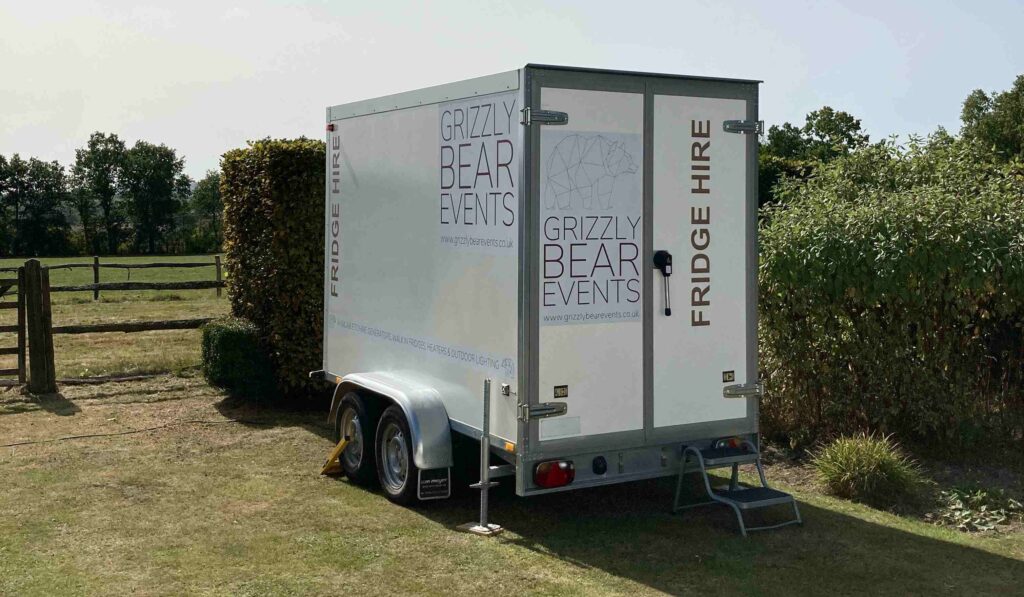 What else do you need to consider?
When thinking about chiller trailer hire and whether it's right for you, whatever your needs may be, there are a few things to bear in mind. Here are our top tips for hiring a chiller trailer to make sure that you have the best experience!
Ensure you've got the right temperature
Most chiller trailers can be set at different temperatures depending on what you are storing. After all, some things will need to be kept colder than others to ensure that they're stored properly and safe to eat! Before using your trailer, make sure that you've set it to the right temperature. And, make sure that everyone who uses it remembers to shut the doors once they're finished. This will prevent the temperature from going up by accident!
Pick the right spot
As we've already discussed, chiller trailers are great because they can go on almost any surface, making them really versatile. However, it's important that the spot you put them in is flat so that they can operate properly, and also so that nothing inside falls off of shelves or rolls about, which can be a health and safety hazard! It's also important to think about where your trailer's power will be coming from beforehand. If it's from a mains supply, will you need extension cords to reach it? Will your trailer be close enough? If it's going to be powered by a generator, is there enough room in your chosen spot to operate both the trailer and the generator safely? It's a good idea to think about this in advance of your chiller trailer being delivered, to make things run smoothly on the day.
Why choose Grizzly Bear Events for chiller trailer hire?
Here at Grizzly Bear Events, we know a think or two about chiller trailer hire. But why should you choose us to hire your trailer from? We've supplied chiller trailers for countless events and other uses. And, we believe that our chillers offer a really convenient solution. They're fitted with shelving down both walls, safety step access, a lockable door, internal lighting and connection cabling to a household or generator supply. So, they're easy and versatile to use! Installation only takes 20 minutes, so you'll soon be able to make the most of the chiller space after delivery. And, we also offer a variety of sizes to suit different needs, with free delivery within 50 miles of Horsham, West Sussex. Furthermore, if you're looking to hire a chiller trailer for longer than 30 days, we can also offer big discounts to make it even more cost-effective for you!
We supply fridge and freezer trailer hire around West Sussex, Surrey, Hampshire, Kent, East Sussex, West Berkshire, and London.
Find out more about our chiller trailer hire here, or contact us to get a free quote today!