Planning your wedding is a hugely exciting time for any couple! Whatever your dream wedding looks like, lots of careful thought goes into pulling it off. An increasingly popular option is outdoor, tipi and marquee weddings, especially in the summer months. They give you greater flexibility with location, number of guests, and wedding theme, to name just a few of the benefits. 
A plain marquee can be turned into a stunning venue with a little imagination! However, hosting your wedding in an outdoor space often means you need a generator to power the electricity for the various vendors, caterers and services you want at your wedding. Think toilets, DJ, photobooth even the lights themselves! 
Here at Grizzly Bear Events, we are proud to offer a full range of wedding generator hire options to suit your needs. Find out more about what we offer and the benefits of our services here.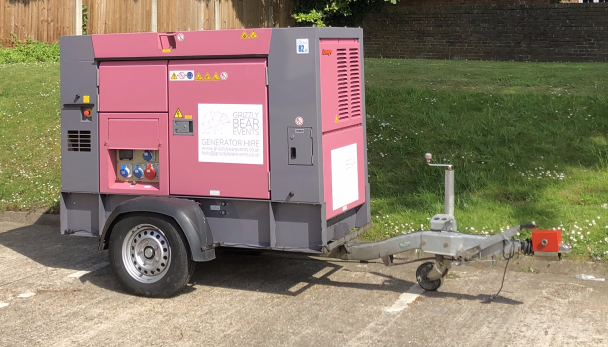 What size generator do I need?
This is one of the most common questions we get asked here at Grizzly Bear Events! Lots of our clients come to us needing a generator for their wedding, but they're simply unsure of what size they need. With so many different generators out there, each one offering a different amount of power, we know that it can quickly get confusing- but it doesn't have to be that way! With our wedding generator hire, we want to make hiring the right generator for your needs as easy as possible. 
Firstly, we encourage you to speak to all of your other suppliers to find out about the wattage they'll need. You can then add these up to get the total wattage, and ensure you allow for the power factor of 0.8 between the KVA generator and kw. For example, a 40kva generator will produce 32kw. 
If you're still unsure about what generator is right for your needs, please get in touch and we'll be happy to help! 
Which suppliers do I need to speak to?
When planning a wedding, different couples with have different types of suppliers depending on what they want their wedding to look like! But, you may be surprised by which suppliers will need the electricity provided by your wedding generator hire company, and how much they'll all use. Here's a list to make sure you don't forget anyone:
Your caterers. They'll likely have ovens, fridges, hot cupboards, urns, and kitchen lighting which may require the use of your generator
Your chiller. Are you hiring a refrigerated trailer to keep your food, drinks, or even flowers cool?
Your marquee or tipi
The band/ DJ
PA system for speeches or music
Toilet trailer
Photobooths and other decorative items or fun activities for guests
Bar power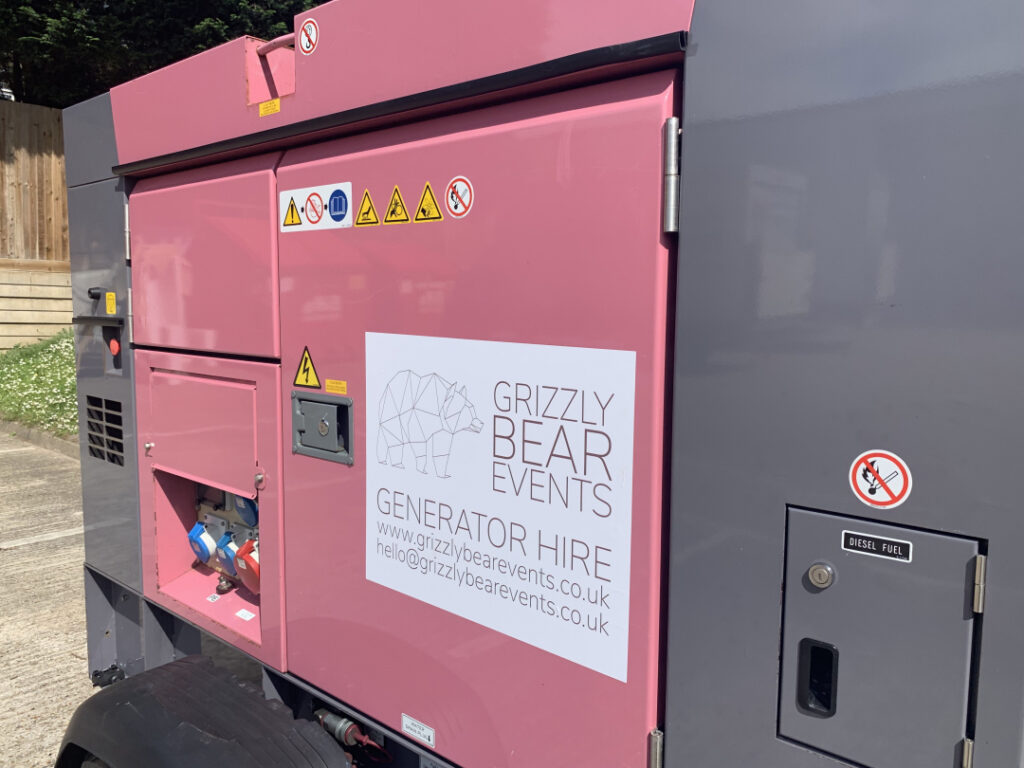 What do we offer for wedding generator hire?
Denyo Eventa 20kva Ultra Silent Generator

Kilowatt of power available

16kw
Denyo Eventa 37kva Ultra Silent Generator

Kilowatt of power available

30kw
Key things to think about for your wedding generator hire:
At Grizzly Bear Events, we're here to help guide you in choosing the right generator for your wedding! Here are a few things to think about in planning your day and where your generator will fit in: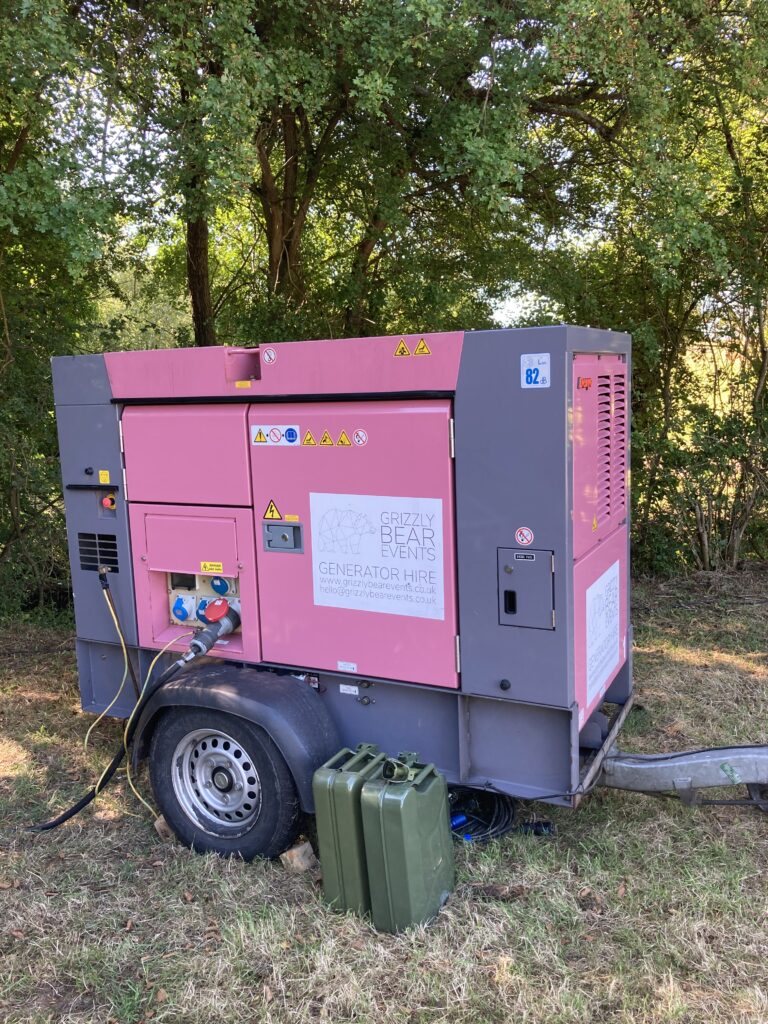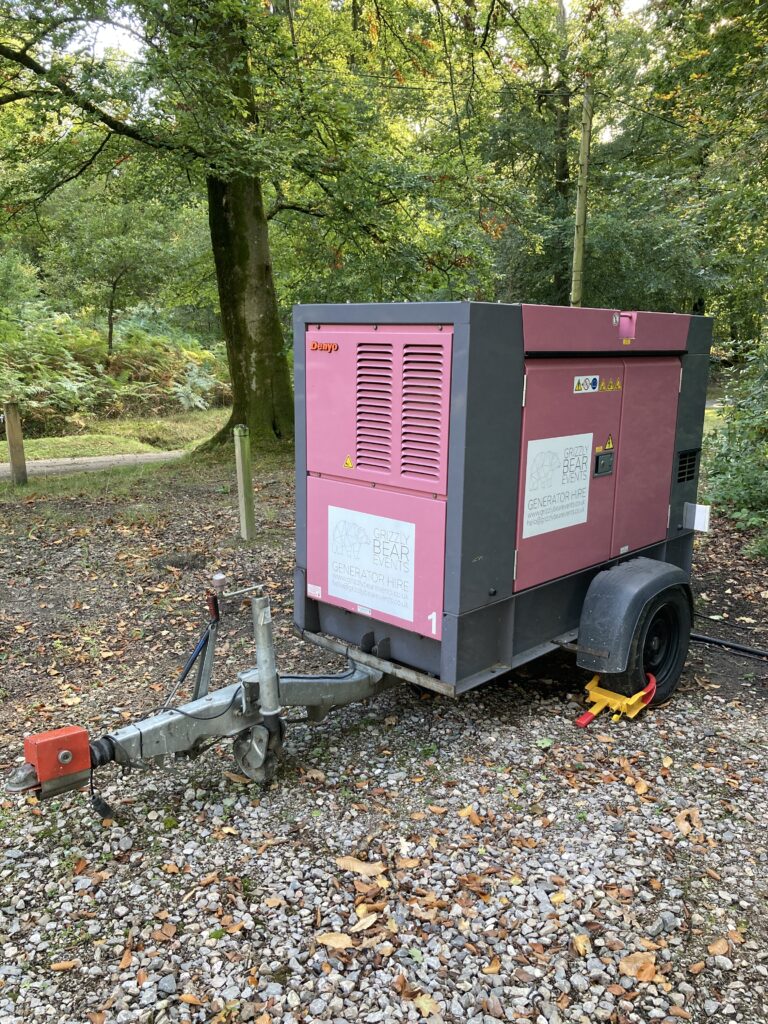 Why hire your generator from Grizzly Bear Events?
Other equipment available for wedding hire:
Your marquee or tipi wedding isn't complete without a whole range of amenities for an unforgettable day! We also offer heater and chiller trailer hire for weddings to ensure that everything runs smoothly on the day. Find out more below:
Planning Your Dream Wedding?
We deliver outdoor event equipment straight to your door... or field!