With demand for outdoor events in 2021 growing, and more people renting temporary structures we've added indoor bio-ethanol fire pits to our range. They brighten up what is a boring white marquee, add character and make a great focal point to any event.
Why not pair the fire pit along with our festoon, or perhaps fairy lights? We can help you to create a bright and memorable atmosphere for guests to socailise.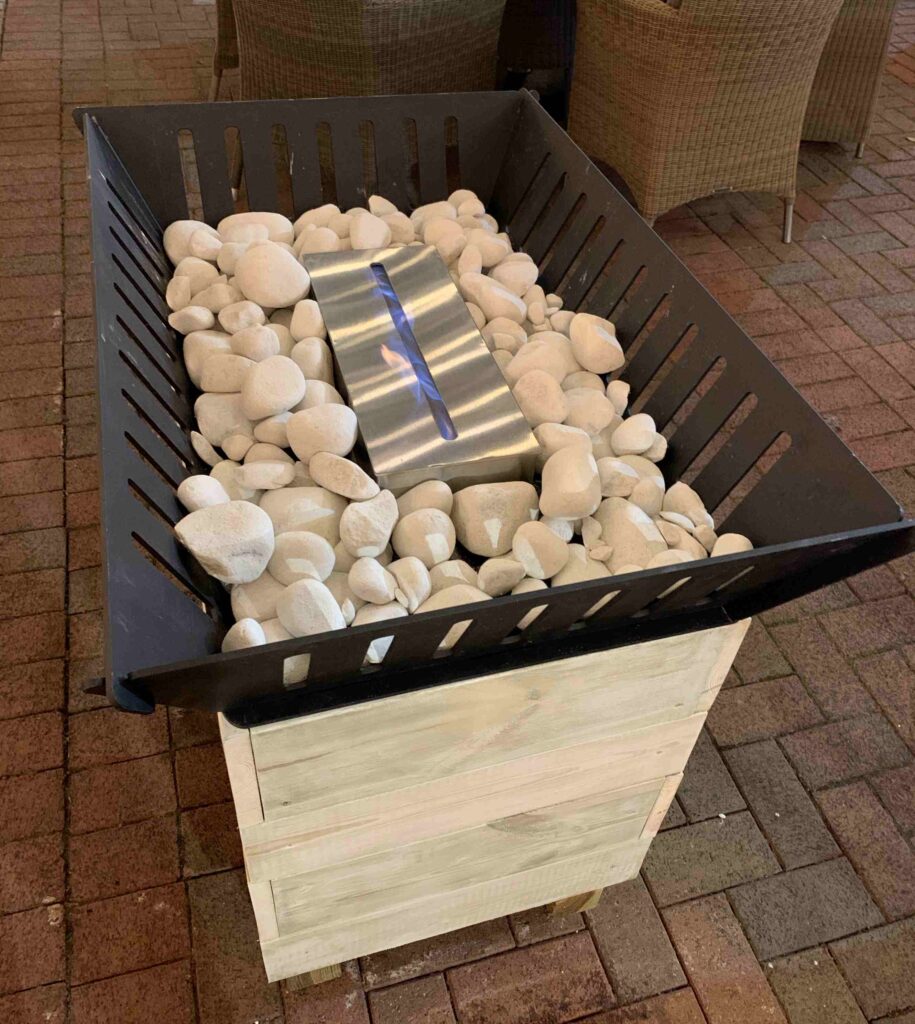 Why use bio-ethanol over a real wood fire?
Can be used indoors or outdoors
Lasts for up to 12 hours without maintenance
You don't have to keep adding more logs
No sparks or ash
Smell free
No special venting required
Easy to ignite – just use a lighter
Easy to stop the flame, just pop the lid on the metal
About
Available to rent from 2021, our bio-ethanol fire pits are an idylic center piece for your outdoor, marquee or tipi event. With a live flickering flame, controlled and safe in the surrounds of the fire pit, your guests will feel toasty and warmed inside.
Our fire pits are freestanding at around one meter high. Encapsulated in a white ash wood base and white stones around the ethanol flame itself, the fire pits are sure to be a talking point. Quite literally! Although they give off little heat, they're a great focal point where guests gather around to catch up.
The heat from our bio-ethanol flame alone will not keep a space warm and cosy, so we would recommend adding an indirect diesel heaters too if they're being used in the winter months. We can position a space heater out of sight and bring the duct into the side of the tent. The heat from our bio-ethanol flame alone will not keep a space warm and cosy.
What is bio-ethanol?
A flamable, colourless liquid which produces a orange flame once it's been burning for 5-10 minutes. Efficient on fuel use, our burners will last for 10-12 hours on one tank of fuel, meaning no need to top up through-out your event.
They're also environmentally friendly and don't use fossil fuels, bio-ethanol is a by-product os sugarcane and grains. Emmitting no smoke & no harmful particles, just water and CO2, they're the perfect way to have an indoor fire. Guest's won't leave with their clothes smell of smoke – what's more to like?!
Reserve yours…
Create a beautiful, safe, flame for your guests to admire and stand around, in any space with our rental bio-ethanol fire pits. Rental starts at £250 for a weekend rental, includign delivery, 10-12 hours of fuel and installation.

Bespoke made for Grizzly Bear Events, with metal fabrication from Eric at local business, Fabulous Fire Pits.