Flexible & Convenient Marquee Heater Hire Sussex
Looking for marquee heater hire? Here at Grizzly Bear Events, we pride ourselves on offering top-quality professional heaters that are there to suit your needs. Otherwise known as indirect diesel heaters, space heaters, and ducted heaters. We supply them in West Sussex, East Sussex, Surrey, Kent, Hampshire, West Berkshire, London, and beyond. 
No matter what you need a marquee for, come to us for marquee heater hire Sussex and our heaters will be sure to keep you warm. We only use brands and models that are renowned in the events industry to ensure that they're reliable, safe, and effective. 
Uses of Marquee Heater Hire Sussex
Our heaters are mainly used to heat marquees, but they can also be used in all sorts of shelters, such as sail cloth tents, stretch tents, yurts, tipis, barns, outbuildings, pagodas, gazebos, the list goes on…
The heaters that we supply are an events industry recognised heating method so you can be sure it's safe and efficient.
They can be used for both long and short term marquee heater hire Sussex to suit your needs. So, whether you need heating for a day, a month, or even longer, we are here to help you.
Marquee Heater Hire Case Studies
We've provided marquee heaters to many events, venues, suppliers, and more, all over Sussex and beyond. Here are just a few examples of our case studies where we provided marquee heater hire, Sussex and beyond:
Why rent with Grizzly Bear Events?
Now you know all about the different marquee heater options that we provide, what are the benefits of choosing us above the rest? We strongly believe that we offer great service, easy convenience, and more. Here are just a few of the benefits of choosing Grizzly Bear Events!
Indirect Diesel Heater Specs
Arcotherm EC55 & EC85 or Master BV170DV
Upto 14 hours on constant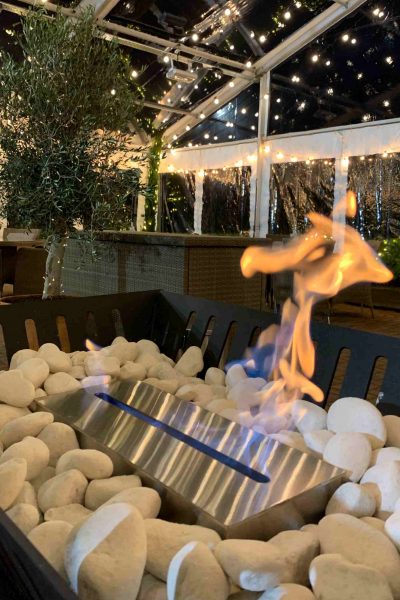 Looking for a centre piece in your marquee or teepee which is smell, smoke and fume free?
Our bio-ethanol fire pits, set in a steel surround with a white wash wooden base, look great in any setting. 
They'll burn for up to 12 hours without a refuel, are simple to ignite and bring the outdoors, indoors. It's worth noting that these fires shouldn't be used as the only source of heat as their heat output is low. Find out more on the firepit page or on our blog article here.
From £250 per weekend, including delivery, fuel and installation. Longer rentals and fuel refills available.
Are you hosting an event?
We deliver outdoor event equipment straight to your door... or field!