What could require power?
Exploring the use of a household supply
If the venue is close enough, smaller events can most certainly explore the use of the mains household power supply.
A typical house will have  two ring mains (upstairs & downstairs) plus an outdoor / garage circuit. You would need to spread the load across each of these, to avoid overloading one circuit.
How do you know how much power you can use from the house? 
Initially, we'd recommend looking at your main fuse board (aka distribution panel) in your property. The ring mains will have circuit breaker with a power amp rating on them. This is the level at which they'll trip if you overload the circuit. You need to bear in mind that this is the maximum and there will already be a degree of load on these from the property (during the event you may need to prevent use of high powered items). If you're not sure please do ask an electrician to assist. 
Once you know how much power you need…
….you can work out if it's possible to distribute this across the power supply available on the house ring mains. 
Residual Current Devices (RCD)
We strongly recommend in all instances of using power from a house (outbuilding, shed, or garage) that a RCD is used. These are life-saving devices which detect an imbalance between live and neutral on the wiring and will shut down the circuit in 0.03 of a second. An example would be if water were to penetrate the cabling, the marquee frame were to touch a live cable or a human were to touch an exposed cable. 
Circuits in the property:
Upstairs power ring mains with 32amps

Downstairs power ring main with 32amps

Garage supply with 16amps

Bear in mind these circuits do not have the full capacity available – they are already partly used by equipment already in the property.
Require:
Marquee (1 x 16amp plug / 2kw / 8amps)
DJ or Band (2 x 13amp plugs / 5kw / 21amps)
Outdoor lighting (1 x 16amp plug / 1kw / 4amps)
Total: 8kw, which equated to around 33amps
Solution:
The above is likely possible but you need to look at spreading the load out across the house. You can't simply power all of these off one extension lead from one ring main. It'll be too much and the circuit breaker fuse will keep tripping. 
Consider running one extension lead from the upstairs ring main for the marquee and outdoor lighting. 
A second extension lead from the downstairs ringmain power supply for the band.
A third extension lead from the garage for a second power feed to band. 
Not enough power?
Sometimes you don't have the capacity on the circuits, cabling available or simple want everything taking care of – this is when a generator will be required.
Often is the case that the household supply just isn't close enough or your suppliers are asking for more than you have available.
We would typically say that once you have more than around 30 guests or some kind of catering which requires power, you're likely to require a generator.
Generator sizes vary depending on power demand for your event – we offer 20kva & 40kva ultra silent generators specifically designed for the events industry. 
Grizzly Bear Events is here to help. We know and completely understand that most clients have never booked a generator before. We keep the booking process simple:
Find out what you need to power
Recommend the best size generator
Offer an all inclusive package including ultra silent generator, fuel, delivery, cabling installation plus insurance for the equipment.
Click here to go to our page on generator prices, specs and some additional photos
We'd hope you would consider booking with us, but we have also written this handy article about how to compare generator quotes.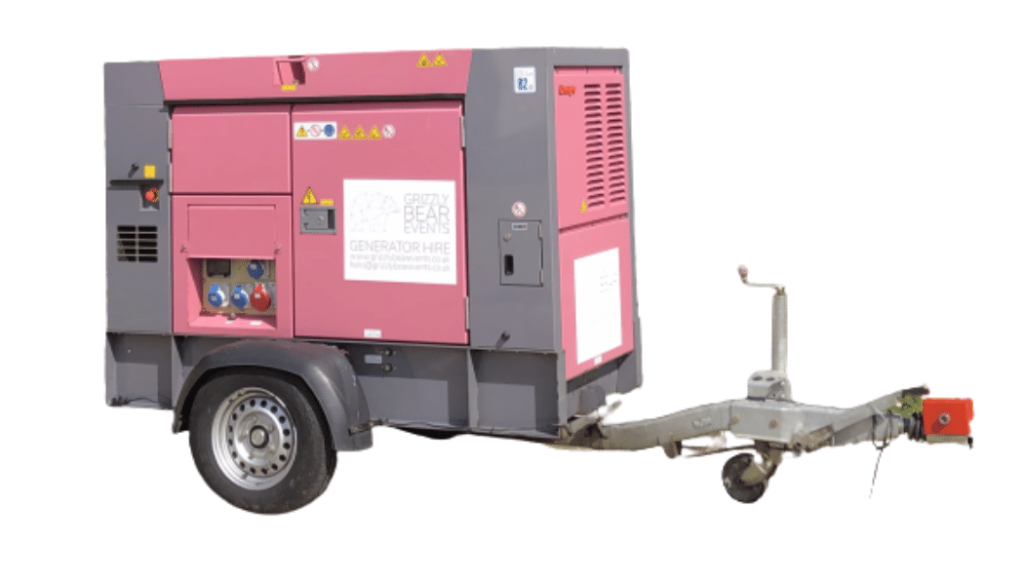 Once booked - a few requests and suggestions:
Please note: The above article is inteded as guidance. Therefore, Grizzly Bear Events Ltd, nor the author, accepts any liability for it's accuracy.